Friends of Gilpin County Community Center
The Friends of Gilpin County Community Center (FGCCC) is a 501(c)3 nonprofit corporation and Colorado Charitable Corporation made up of citizens of Gilpin County, Colorado who support the mission of the Gilpin County Community Center and its vital position in the life of our mountain community. We provide Gilpin County Parks and Recreation department members with research and community feedback.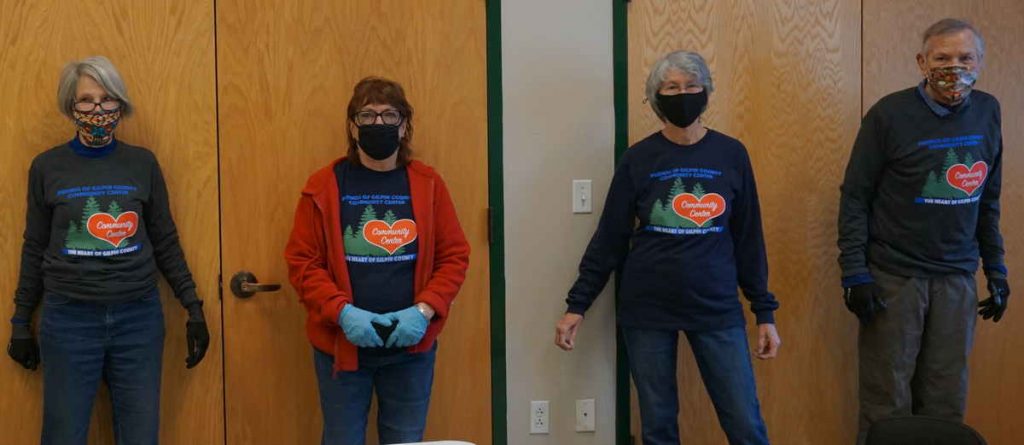 FGCCC is also planning long-range sustainable funding of our Community Center campus programs. This includes finding grants for new and continuing programs, as well as working on the creation of a Parks and Recreation District in the future.
Our Members
Organizationally the FGCCC is composed of a Board of Directors that oversees the work of the group. Functional operations are composed of a Project Office which provides direction to and cooperation with seven interest groups:
Arts and Crafts Interest Group
Friends of the Gilpin County Fairgrounds, which includes the Gilpin County Animal Rescue Team (GCART)
Funding Interest Group
Senior Interest Group
Wellness, Sports, and Recreation Team
Youth Interest Group
Parks and Recreation District Exploratory Group
Think of the FGCCC is a "support arm" of the Community Center, and as a non-profit is working on long-term solutions to Community Center challenges such as funding and program expansion. The group can also apply for grant funding, solicit commercial support, and advise the county on issues of importance to the Community Center's use and future. It can also speak out on ballot issues to inform and educate the public about specific ones related to the Community Center campus.
Position
Name
Board of Directors
President and Press Contact
Carolyn Collins Petersen
Vice President
Steve Schwettman
Treasurer
Ginger Baer

Secretary
Functional Operations
Correspondence
Carolyn Collins Petersen
Ginger Baer


Fairgrounds
Norma Jones
Wellness, Sports, Recreation
Steve Schwettman
Fundraising
Sarah Swanson
Arts and Crafts
Karen Eye
Senior
Ginger Baer
Youth
Vacant
Board of Advisors

Bonnie Cowherd
Karen Eye
Norma Jones
Carol Mirarck
Sarah Swanson
Mission Statement
In concert with the Gilpin County Parks and Recreation Department, the mission of the Friends of the Gilpin County Community Center is to enrich the lives of Gilpin county residents by providing opportunities to gather, celebrate and engage in activities that promote health, education, and community.
Goals
Continue to maintain and enhance the Community Center as a Focal Point for:

Celebrations such as Christmas Holiday Crafts Fair, father-daughter dances and birthday parties
Gatherings like the County Fair, High Country Auxiliary Silent auction/chili dinner, fundraisers, 4H, and election polling


Promote and evolve the Community Center as a Multi-generational Resource supporting:

Youth programs including after school, 4H, athletics, aquatics and summer programs
Adult programs such as pottery, quilting, yoga, athletics and aquatics
Senior programs from senior lunches, transportation, senior exercise and shopping


In conjunction with the Colorado State University extension office build and bolster the Community Center as an Educational and Information resource providing:

the community garden
CPR training
evacuation training

forestry education
mountain gardening
noxious weeds mitigation
wild fire preparedness training


Maintain and keep ready the Community Center as an Emergency Shelter that is:

Red Cross approved
ADA Compliant
Ready for animal rescue through GCART


Improve and better the Community Center as a Recreational Facility for activities such as baseball, basketball, children's playgrounds, equestrian arena and barn, hiking trails, martial arts, pickle ball, soccer, softball, volleyball, plus much more

The FGCCC will also act as a support organization for the Community Center providing input on programming, management, finance and enhancements

Finally, the FGCCC will act as a grant-seeking and fundraising group for future programs to be held at the Campus.
Donations to and sponsorships of FGCCC will go to support its activities that enhance and sustain our Community Center. This includes administrative costs as well as outreach activities regarding the future of the Community Center and its programs. Our officers are currently volunteering their time and efforts and do not receive pay for their volunteer work.
We offer a monthly newsletter you can subscribe to for further information about our activities.